Medieval and Renaissance Art

Art of old can speak to me, just as strongly as the works of today. And a grand example is the works of the Middle Ages and the Renaissance. They speak of ideals that have fallen away in our quests of personal freedoms. Things such as chivalry, nobility and faith. And I love to look back upon an age when those things where valued. In an age before the camera, people wanted their images immortalized. The wealthy would commission works of art, often binding them to their wealthy patrons. As I love the figure, being able to look at a face or a body to learn more of the sitter is truly magicial... I suspect part of the appeal for religious works comes from my background. Nearly 10 years of catechism has to have some effect. *grin* I find that the symbolism of Christianity can possess a certain beauty and serenity. Also, the biblical figures and saints are imbued with deep symbolism and an intensity that was clear to the people of the time.

~ The Artist That Speak to Me Most of the Era ~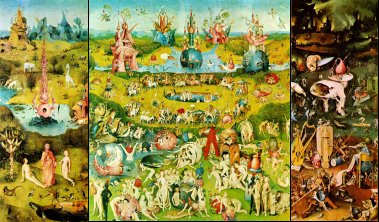 Many viewers are perplexed by Bosch's works as they are so complex and full of arcane symbols. The Garden of Earthly Delights is probably the best know work by him. It is so complex that it is difficult to take it all in sometimes, but the figures appeal to even a modern eye. The left panel of the triptych represents Hell and all its horrors. Looking upon it, I can't help wondering if the surrealist took some ideas from Bosch (though out of their original context).
Links